I donch know if you know it .. but Sienna from Bring Up Baobao etc .. had a broken arm recently. But she was such a brave little girl.. and i wanted to send her something to encourage her .. a little care package.
But knowing Sienna .. she prolly have every single thing she fancies.. or even more… because she have a very loving set of parents… especially her mom.
I learn alot from Sienna's mummy.. coz' she is so positive.. and her different way of looking at things.. is truly amazing..! Alot of times.. she set me thinking.. and admiring her.
Anyhow.. like i said.. i wanted to send Sienna something.. and i thought to myself.. hmmmm.. what can i get for a little girl who has everything..??? So i decided to send Sienna a series of things.. just to keep her guessing what is coming next.. 😉 Sienna doesn't know it though.. this is a surprise.
This is what i got for her a few weeks .. and will be sending it out today.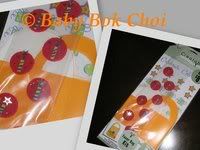 Something to keep Sienna busy for abit. I hope she likes it.