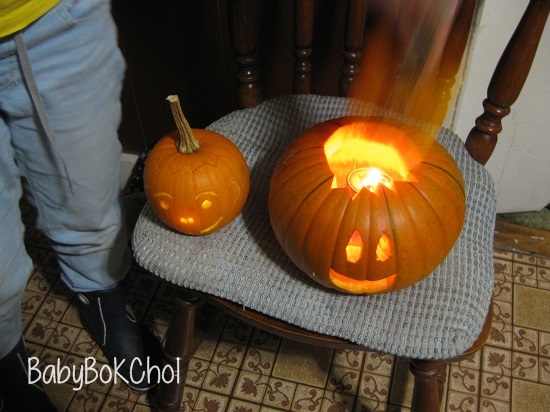 I have  a lot of things to be thankful for this Thanksgiving.  We had dinner at my in-laws and Aunt Helena cooked a feast as usual.  We had ham, we had turkey, we had squash, we had coleslaw, we had salad, we had corn, potatoes, carrots and all kinds of desserts and sweet.  But I'm truly grateful for everything , from Chloe, PB, the in-law, Aunt Helena and Richard, my brother in law.
We gave my father-in-law a bottle of rum and aunt helena some flowers for thanksgiving and my mom a mom ring because it was something she wanted for the longest time.   The following day, we went apple picking at the Apple Farm in Port Maitland and although they don't have U-Picks on Monday, the owner let us go pick apples with the kid's from the Chinese restaurant because they can only get off days on Thanksgiving Day.  So I'm thankful for good old family friends like Andy and Phyllis.  Whenever we go pick apples with Chloe, they never charge chloe's for the ones she eats and for her friends.  They only charge us for the ones for school.  Very grateful for their kindness every year.
Then we went by my father-in-law's place and the kids had so much fun playing with kittens and going to the massive field that my father in law have and going into the tractor and sitting on it and having a ride on it.  We headed to our cottage by the beach after that and George was painting our cottage in the inside and i'm grateful for that as well.  Follow by Chinese hot pot at the Chinese restaurant and meeting a Japanese lady who is in town for work.  What a wonderful thanksgiving weekend!  PB didn't open on Thanksgiving either because I needed him to drive me around.  Grateful for that too !